Winner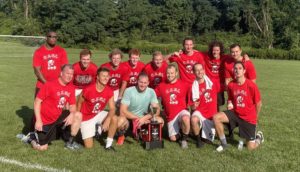 CASL 2021 Champions – Red (Gangle)
| | |
| --- | --- |
| Championship MVP | Joe Gangle |
| Goalkeeper Award | Mason Lesage – White |
| Golden Boot | Drew Warren – Carolina Blue |
CHAMPIONSHIP RECAP
A slow start for Red with White controlling play and generating a few solid chances in the first 10 minutes. Red was able to weather the storm, and the game was back-and-forth through the first half with neither team able to break through for a goal. Red had a goal disallowed about 15 minutes into the second half. A few minutes later Red capitalized on a rare error from White in the back as Mason LeSage came out of goal to make a pass and was intercepted by Dean DerSimonian about 35 yards out. Dean was able to find the back of the net to give Red a 1-0 lead. Red's GK Ryan Devine then made an unbelievable save against Carson Lonner to keep Red up 1-0. White's Georgi Pehlivanov was able to get White level with about 10 minutes left after Red was unable to clear the ball in their own box. Georgi used his strength and finesse to even the score. Regulation ended 1-1. Overtime saw Red generate a plethora of chances but Mason LeSage was consistently up to the task. White also cleared a ball off the line to keep the score level and force PKs. PKs were Red Goal, White miss wide, Red Goal, White miss wide, Red Goal, White Goal, Red Goal. Red wins 4-1 on PKs.
Red PK scorers: Dean Dersimonian, Tim Jaffe, Joe Gangl, Umar Savinson.
SEMIFINAL RECAP
Gold started strong and took the lead off a pure effort goal from Jon "Batman" Fuydal. Red drew level on a John Trueman goal after some nifty passing in the box. A few minutes later, Red took a 2-1 lead off a shot from Umar Savinson. The half ened 2-1 Red. A few minutes into the second half, Red added a 3rd on a header from Kevin Cox off a restart. On the ensuing tap after the goal, Conor Bailey dribbled through the Red team and earns a PK. Bailey stepped up to the spot only to have Red's GK Ryan Devine turn it away to keep the 2 goal cushion. Peter Bockarie brought Gold one goal closer with a tap-in from a few yards out, only to miss the tying chance a few minutes later on a similar play. With Gold pushing in the final minutes to get the equalizer, Dean Dersimonian found the back of the net on a quick counter to give Red a 4-2 lead and sealed the victory for Red.
Royal Blue took the lead 15 min in on a goal from Jason Moran from a loose ball inside the 18. The two teams battled ferociously throughout the game until midway through second half Erik Katz pulled White even on a wild bicycle kick from inside the six yard box. The battle continued in overtime but no golden goal was scored, so the game would have to be decided on PKs. PKs started with James Celucci from Royal Blue striking an excellent shot to the corner, far out of the reach of White goalie Mason LeSage, while Brendon Mendelson was stopped by Royal Blue Goalie Karan Nair. Each team then put away the 2nd, 3rd and 4th Pks, then Mason Lesage made a big save on Royal Blue's 5th shot. White put away their 5th to make it 4 – 4 then both teams made the 6th. Mason LeSage again showed why he is one of the best goalies in the league by stopping Royal Blue's 7th and then Don Reilly sealed the win for White.