Welcome to the Carroll Alumni Soccer League (CASL), celebrating our 51th year of soccer! Founded in 1972, we are a men's amateur summer league in Radnor, PA. We are the only league in the Philadelphia area where teams are selected through a draft. You don't need to be affiliated with a team or club to play. To find out more about CASL, go to our "About Us" page.
---
CASL 2022 Registration is now CLOSED!
Registration for CASL 2022, our 51st season, is now Closed. We will be in touch shortly with more details about the start of the season from your captain!
CASL 50th Anniversary Celebration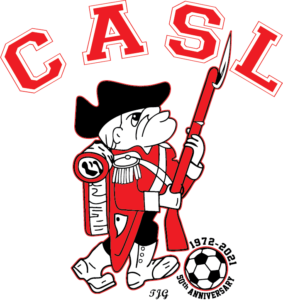 Thank you to everyone who was part of the CASL 50th Anniversary Celebration that was held on Saturday, July 31st 2021 at Archbishop Carroll High School. Along with the CASL 2021 Championship match the event was also a Carroll Boys Soccer All-Class Reunion with many of Carroll's former soccer coaches in attendance. It was great to see so many CASL alumni, Carroll boys soccer alumni, coaches, administrators, teachers, friends and their families.
It was a beautiful day spent with good friends in support of Carroll soccer and CASL, and a special opportunity to reconnect with the coaches and teammates that made playing soccer in CASL and at Carroll such a great experience. It was also a celebration of CASL's milestone 50th Anniversary season. We recognized the legacy and contributions of Tom Gilmore, who started the boys soccer program at Carroll and had the idea that started CASL back in the summer of 1972.
Thank
you
to all of the donors and supporters of the "Coach Gilmore Memorial Scholarship Fund." Coach Gilmore was very excited to know that CASL is still thriving 50 years later and was looking forward to celebrating with us before he suddenly passed away in the Fall of 2020. This scholarship in his memory will be used to provide partial scholarships to attract talented student-athletes to Carroll. 
Please use the following link and consider making a tax-deductible gift to the "Coach Gilmore Memorial Scholarship Fund.
Special thanks also goes out to all the captains and players who participated in CASL's 50th season and congratulations to Joe Gangl and his Red team for their hard fought win in the 2021 CASL Championship match. Please go to our STATS and PLAYOFFS pages to see the league standings, playoff recaps and award winners from this special season. To see some images from the special celebration, use the link below.
Please use the following link and consider making a tax-deductible gift to the "Coach Gilmore Memorial Scholarship Fund."
To see the Photo Album from this special celebration click here:
Sponsorship for the 2021 season

Welcome our new sponsor D & Q Ski and Snowboard! Located in Cherry Hill, NJ. Please check out their website and get geared up for next winter with all the best and latest in skis, snowboards and accessories; boots, clothing, helmets, goggles and other equipment; leasing and rentals; ski tuning, boot repairs and adjustments. Co-owner Matthew Hurley has been playing in the league for many years and we are very grateful for his support.
D&Q Ski & Snowboard (dandq.com)